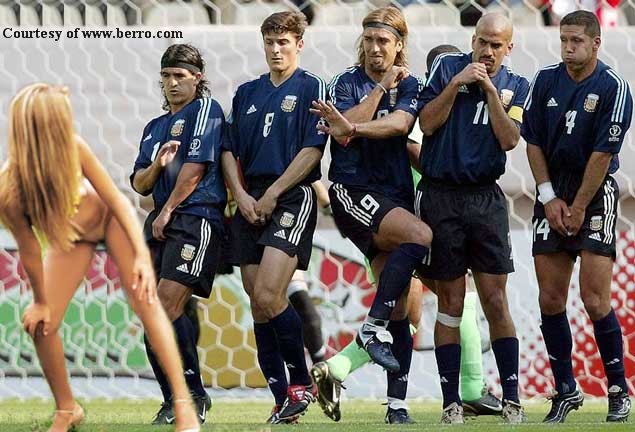 The Dalembert Report would like to once again welcome to its already illustrious fold of commentators the well-known internet superstar and part time English person Arnold T. Pants. He's here to write about soccer, people. Get over it.
Friendly matches are supposed to be for tuning up, testing compatibility, and amiably hosting some foreigners for 90 minutes. They can also be used for healing. Thanks to Steve McClaren, most English folks are now either huge rugby fans (thanks Wales, you fucked that up for us to!) or pretend to like cricket. Having sacked Steve after his failure to take the Three Lions into the European Cup this summer, the FA decided on Fabio Capello, an Italian bloke that doesn't speak English.
Despite that minor issue and some apparent tax problems, people like Marcel Desailly and Sir Alex Fergusson (who it must be noted are not English) believe Capello a sound choice. David Beckham, left out of the squad, and also previously dropped by the Italian when at Real Madrid, also offers his backing. Will this experiment work? Will he be like the last foreign manager, Sven Goran Eriksson, and be just a little too casual?
Some answers remained unanswered as England took the field on Wednesday. Switzerland, having not played a true competitive match in time, were the guests at Wembley. England, with new shirts, new manager, and new interim captain, Steven Gerrard, played a decidedly nervous match.
In the ninth minute, a great run of play lead to a charging Wayne Rooney. His strike was narrowly saved, and from there the tone was set. A missed opportunity would be the most exciting moment of the game.
Yes, there were goals. With five minutes to go in the first half, Jermain Jenas (who my little cousin says is gay) tapped in a cross from Joe Cole. Cole was a bright point for England, offering a few promising crosses that failed to be controlled by their recipients.
The first 45 minutes were played with a disappointing lack of control, but at least we were up. There was hope (sadly, a single half is enough to fill me with this emotion). That all dissipated when Switzerland leveled the game one all. A sound goal, to be fair, yet still enough to rouse my suspicions about the manager. Why is David "Calamity" James still a fair choice in goal? Would concentration again be an issue?
In answer to the second question, yes it will continue to plague. A goal by Wright-Phillips in the 62nd proved the winner. Thank god. He's a good lad, his step-father the great Ian Wright, and beyond he deserves recognition as one of England's young stars. If only he was not a Chelsea boy. His goal was a highlight in an otherwise lackluster performance.
My mother joined me to watch the second half. I said, "This is rather tedious." She said, "They are still complete crap." Such is the English belief in our side. Short of winning the world cup, and regardless of whom we field, they will always be shit; a mere blip on sporting memory among stalwarts like Prince Nassem, Tim Henman and Eddie the Eagle.
A first match victory should not cloud expectations (remember McClaren's troops were four goals to nil winners in his first campaign). Capello has much to do. But, so does the English public who rather than birthing expert drinkers and rabble rousers should begin to concentrate on popping out footballers.