A couple of weeks ago, Chief Naka and myself were fortunate enough to attend a summit with Ed Stefanski where he held forth on his upcoming plans to surround Sammy D with enough talent to reach the finals. Essentially, he told us that they key to the Sixers success next year was getting Willie Green and Reggie Evans out of the starting lineup, which he proposed to do by moving Iguodala to the 2, Young Thad to the 3, and using our cap space to acquire, if not a superstar, at least a studly power forward who can run the floor, bung many a dunk, play d, and provide a low post threat in a half court offense.
Since the Sixers were, at the time of our meeting, the only team projected to have significant cap room, Stefanski's logic was to put pressure on teams to match the Sixers' qualifying offers to their restricted free agents.
There are a few players out there that fit this criteria in various ways: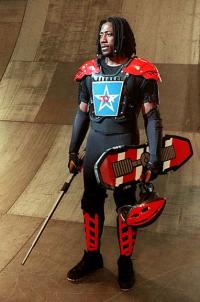 Josh Smith
– This dude is at the top of the list. Like Wesley Snipes in Future Sport, he is unstoppable physical force when combined with a skateboard and hockey stick. And like Wesley, he would wreak much havoc in a starting 5 of Sammy, Smith/Snipes, Young Thad, Iggy and Andre Miller. It would be a 48 minute dunk and blockathon. Fuck and yes.
Tyrus Thomas
– this nuh is athletic and was a super high pick last year, but apparently he has an attitude problem and isn't actually a free agent this year anyway. So fuck him sideways.

Ron Artest
– Stefanksi: "The problem with Artest is that he is bipolar and doesn't take his medicine. I'm not sure he is the type of guy we want around our young players."

Emeka Okafor
– definitely an intriguing proposition to pair up front with Sammy. Problem is, he turned down a big contract extension last summer, and he tends to get injured. Also, he isn't that good. I hereby move that we start calling him 'Enema Fuckafor'.

Charlie Villanueva
– He's not a free agent, but has been mentioned as a trade possibility that could be got for a relatively small cost. He is undoubtedly a funny looking dude, but is 'nuff versatile and a pretty good rebounder. Not a free agent, but if the price is right (ie, some Willie Green/Carney basket o' cheer) I for one would welcome his alien-looking self to the frontcourt. He gets a tentative seal of approval.

Drew Gooden
– Don't want him, and we would only get him with some type of Andre Miller-led deal, which the DR editorial staff is uncategorically opposed to (today at least). Though his beard would fit in mad well in Philly.
Jermaine O'Neal
– "O'Neal and AJ with the
counterattack
!" Dude makes too much dough.
Udonis Haslem
– Would Haslem and Jason Williams' 7 million expiring deal be enough to trade Andre Miller? According to Chief Naka, Haslem is a poor man's Halloween Hill. Which makes him Reggie Evans, who we already have. So fuck him too.