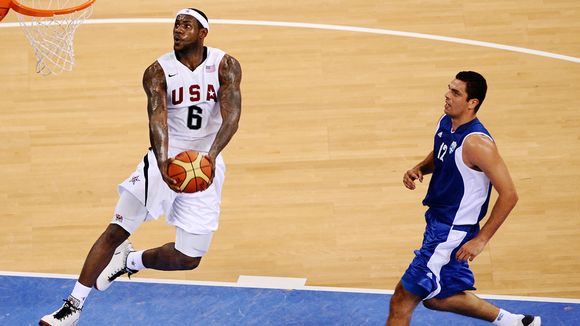 At some point last night, as I drank Tecate and argued, position by position, the Eagles roster versus the Redskins roster with 'Skin loyalist Mr. Mo, we stumbled upon the knowledge that the gold medal basketball game would be starting at 2:30am. As the case of Tecate dwindled and our discussion widened to include an impressive range of topics(rap and girls), 2:30am began to sound plausible, doable even.
A quick stop at Dirty Franks ended in disaster: a carefully chosen Phil Collins medley was abruptly cut short as last call rang out, the tantalizing beginning of Easy Lover our only reward for several beers and three dollars in the jukebox. My blood boiling, I arrived home awake, invigorated, and ready for a galloping procession of alley-oops courtesy of Team USA. What I got instead was two hours of heart attack. A brief review:
The Opponent:
Team Spain, whom the US crushed by 37 points just last week, played a very strong game. That should not be a surprise since, judging from their size and personal hygiene, Team Spain was created when Bigfoot impregnated Rebecca Lobo. Huge, hairy, and possessing an irksome sneer that quickly hardened my patriotic dislike of all Spanish people, this team refused to go away. The hideous Gasol brothers did damage inside while pre-pubescent Ricky Rubio and Portland bound Rudy Fernandez slashed and scored. Every time the US would get a comfortable lead of 10 or more Spain would respond with clutch shots and ugly facial expressions. This went on for hours. They deserve credit. More importantly, can we pass a law prohibiting the Gasol family from ever procreating again? Say what you will about China's one child law, but who dares argue the world wouldn't be more aesthetically pleasing had Mama and Papa Gasol been Chinese citizens, thus saving us from the ghastly sight of Marc.

Carmelo is a Hothead Gunner:
This team, labeled the Redeem Team by the eager-to-slurp media, was fun to watch and well-behaved to boot. There's one exception: My Melo My Man, who proved that you can take the kid out of Baltimore but you can't take the insatiable urge to jack threes and start fights with less talented white guys out of the kid. Maybe Coach K instructed him to force a jumper nearly every touch he got, or maybe his teammates cheered his poor shot selection from the bench. Who knows. I do know that Carmelo, in the two games I saw, led the world in shots per minute and badly wanted to beat some European ass, as evidenced by the constant scuffling, pushing, and glaring he wasted energy on. That's not to say I didn't enjoy his antics, hell, what red-blooded American wouldn't want Andres Nocioni to get dropped with a sucker punch to the chin? but I only point out that I think Melo should stay home in 2012. Besides, by then Thaddeus Young will be the premier three in the league.
Dwayne Brought The Pain:
This dude is really good at basketball and looks ready to get back on the NBA superstar podium again. Injuries have kept Dwayne Wade off the court and hindered him when on it. It seemed like he never missed a shot.
Rooting for Kobe aka Questioning Everything:
I've now been put in the position of hoping Kobe does well twice in the past three months. I wanted his Lakers to beat Boston in the NBA Finals in June and then last night was cheering like crazy for him as he hit huge shots down the stretch. These two examples add to a theory I have already been worried about: I suck. Cheering for Kobe? Twice in one summer?!?! Terrible. I've been showering every thirty minutes and still feel dirty. But whatever, the Olympics are a different breed of competition and I openly admit I want to see the US do well, especially in basketball. JFK posed the query-ask not what your country can do for you but instead what you can do for your country-and now I respond: I have rooted for Kobe Bryant.
I end by observing the the Olympics were fun and a welcome distraction from the Phillies. The Phillies, going for the sweep tonight, will now have two weeks of full attention until the Eagles season starts. Don't fuck it up.