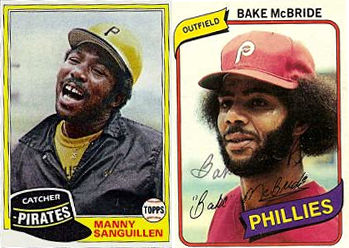 Thanks to a fortuitous series of events involving a wedding cake, an SUV and my own always reliable sloth, I was able to be firmly planted on the 420 Rex couch in time for the start of tonight's Phillies game.
Thank God.
Because if I hadn't, I might have missed Gary Matthews' astute and insightful 'Keys to the Game'. This is a section of the pregame where the Sarge breaks down the areas in which the Phils will have to excel in order to defeat the opposing starter du jour. Tonight we faced Jeremy Bonderman, who throws hard, has a GED, and hasn't lost all year. Drawing on his years of baseball experience, Matthews had the following advice for the Phillies:
1)Pitch Well
2)Good At Bats
Gee, thanks Sarge.
If the Phillies and their fans wanted someone to point out inane and simplistic facts that anyone who's never played in or even seen a baseball game could probably figure out within two seconds, we'd hire Sam Dalembert. Wait a minute...